Fairplex is a non-profit 501(c)(5) organization founded in 1922 to promote agriculture, horticulture and other industrial and commercial interests. Fairplex's mission is to serve as a place, a convener and a creator of memories to strengthen the community and regional economy through arts and entertainment, agriculture, education and commerce. Fairplex employs approximately 60 full-time employees and 70 part-time employees year-round, and up to 500 part-time employees during the Los Angeles County Fair (the "Fair"). Through a unique public-private partnership with the County of Los Angeles, Fairplex operates a 487-acre campus in the City of Pomona and hosts approximately 300 events annually, including the Fair. The Fair has been held at the Fairplex campus since 1922, with the first Fair drawing over 50,000 guests during its five-day run and since then becoming the largest county fair in the country, welcoming over a million guests a year. The Fair is a time when the entire campus is transformed into a canvas where guests can see and create art, indulge in cuisine from various cultures, celebrate local communities, participate in multiple competitions and themed attractions, as well as enjoy performances from local and world-renowned artists.
Fairplex aspires to be a model community partner, economic engine and presenter of unique experiences. In 2018, Fairplex released a new Strategic Plan which outlined five guiding principles: Public Benefit, Guest Experience, Partnership, Sustainability, and Uniquely Southern California. Additionally, the Strategic Plan highlighted three key priorities: (1) Fairplex Presents, (2) Fairplex as a Regional Economic Engine, and (3) Fairplex as a Community Partner. As Fairplex approaches its 100-year anniversary, it seeks to execute a bold vision that will sustain Fairplex for the next 100 years. Part of this vision includes reimagining the campus and the economic and cultural significance to the region. As such, Fairplex has decided to collaborate with the City of Pomona and the County of Los Angeles to develop a Specific Plan to take a thoughtful and comprehensive approach to land use planning for the campus. The goal is to plan for an innovative, sustainable state of the art world class mixed-use campus. Fairplex envisions this being a two-year planning process that will involve significant community and stakeholder engagement, robust environmental analysis and generate creative and innovative ideas.
In 2019, Fairplex partnered with the Urban Land Institute to convene a Technical Advisory Panel to analyze: (1) the Role of the Fair; (2) Future and Heritage; (3) Transportation and Land Use; and (4) Community and Education. Additionally, Fairplex has engaged with Sheppard Mullin to lead the Specific Planning Process. In connection with this process, Fairplex has retained the services of a design consultant, Agency Artifact, to assist with the development of the Specific Plan
Specific Plans are land use ordinances that provide regulatory controls for a specific geographic area. The regulations outlined in a given Specific Plan would replace those set forth in the governing Zoning Code.
According to the City of Pomona Zoning Code (Section 584) Specific Plans should achieve the following purposes:
Promote and protect public health, safety, and welfare
Minimize intrusion of new development into environmentally sensitive areas
Ensure timely provision of essential public services and facilities consistent with the demand for such services
Promote a harmonious variety of housing choices and commercial and industrial activities; to attain a desirable balance of residential and employment opportunities, a high level of urban amenities, and preservation of natural and scenic qualities of open space
Facilitate quality development within the city by permitting greater flexibility and encouraging more create and aesthetically pleasing designs for major urban development projects subject to large scale community planning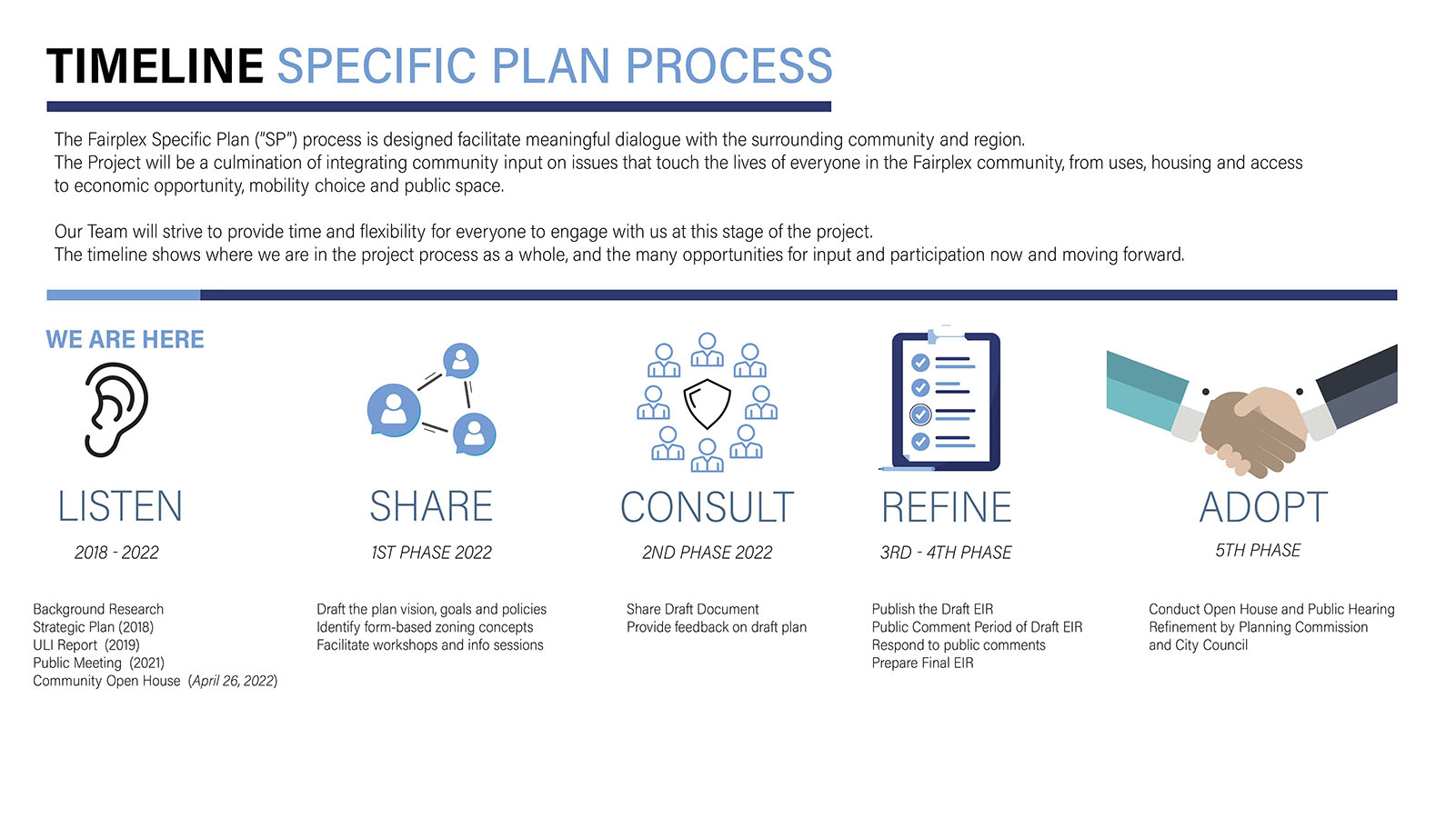 Supporting Documents
Click here to view and download the Fairplex Strategic Plan and ULI Report.
Past Meetings
Click here to view and download past Specific Plan meetings.
Upcoming Meetings
Coming Soon
Contact Info
Email specificplan@fairplex.com or call 909-623-3111