Sponsor Fairplex Events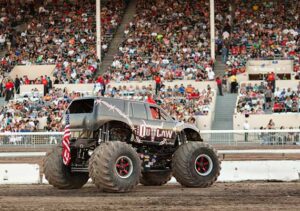 KABOOM!
Celebrate our nation's independence at Fairplex's annual fireworks spectacular!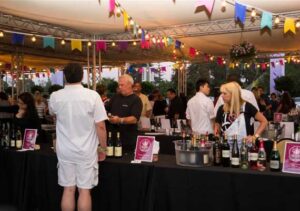 Cheers
Join us in The Farm and taste award-winning wine, spirits, beer and extra virgin olive oil from the Los Angeles International Competitions. If you have always wanted a mojito with ingredients so fresh they are growing right in front of you then you are in the right place. Guests will be able to taste an expertly crafted mojito made from ingredients picked right from The Farm.
LA County Fair
The LA County Fair offers one-on-one interaction with interested consumers of all ages through high-quality experiential marketing. Our guests are reflective of the highly diverse Southern California marketplace. Through custom programming, we have a proven track record of attracting diverse target audiences to the event. We offer unparalleled media exposure, reaching more than 20 million active Southern California consumers in the LA DMA. Whether your goal is to increase sales or create a buzz about your brand, the LA County Fair team will create a customized sponsorship program to maximize your return on investment.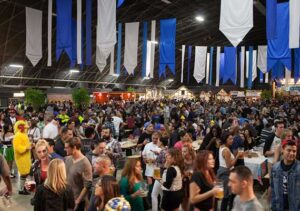 Oktoberfest
Bavarian music. Beer. Authentic German food. Beer. Chicken Dance. Beer. Games and prizes. Beer. Oktoberfest brings a drop of Germany to Los Angeles at Fairplex, home of the L.A. County Fair. In celebration of Bavarian culture and a nod to the world's largest beer festival, Oktoberfest at Fairplex provides all the excitement and German tradition that Los Angeles can offer. Guests are "transported" to Bavaria as they walk through the gates and into Oktoberfest full of Oom Pa Pa music, games and prizes, The Chicken Dance, authentic German food and gallons upon gallons of beer.                                         
Fairplex Sales Department
Suzanne Villegas
Associate Director of Sales
Email: villegas@fairplex.com
Daniela Servin
Account Executive
Email: servin@fairplex.com
Commercial Sales
LA County Fair: May 2023
Booth Space Includes:
Pipe and drape for side and back walls (indoor space). Back walls are 8' high and side walls are 8' high in all Expo Halls.
Canopy/Tent for most outdoor spaces.
Standard electricity – 110V, 20amps (per booth).
Admission and parking passes for staff.
Additional Charges:
Telephone/POS, internet, additional admission and parking passes
Electrical needs in excess of 110V, 20 amps.
Booth Space Guidelines:
Inside signage must not exceed the 8' pipe and drape. If your booth is against a wall, signage can go as high as 10' along the sides and the back.
No canopies of any kind are allowed inside the Expo Halls as per L.A. County Fire Department regulations.
All business dealings are to be conducted within the confines of the assigned booth space, not in the aisles/streets. In addition, NO booth display shall extend into the aisles/streets.
Hand written signs are strictly prohibited.
Tables must be professionally covered and draped to the floor.
All booth spaces must be staffed at all times – if you need to take a break,  please make sure your booth is staffed.
Refund policies must be posted in the booth space at all times.
Insurance:
If a contract is offered, vendors are required and must provide LACFA with proof of general liability insurance of no less than $1,000,000; independent amusement operators – $2,000,000. The policy shall name the County of Los Angeles, LACFA, the L.A. County Fair, and their agents and/or employees as Additional Insured. The policy must also name the LACFA as the Certificate Holder. Policy must be in effect for duration of dates that vendor occupies the grounds.
If you do not have your own insurance, you may purchase a temporary policy for $120.00 per booth (and $70 for each additional location) through LACFA.
Vendors must also maintain Worker's Compensation insurance for all paid employees as required by California law and must provide a copy to remain on file with the Commercial Sales Office.
California Sellers Permit:
All vendors are required to obtain a seller's permit with the State Board of Equalization with the following address listed on it: 1101 W. McKinley Ave., Pomona, CA. 91768 (If you do not have a seller's permit you can apply for a temporary permit online at https://efile.boe.ca.gov/ereg/index.boe. If you are lead generating, a seller's permit is not required. You are also required to keep a copy of this permit in your booth.
Booth Payment Information:
Booth payments are not required with your application. Should a contract be issued, booth payments are as follows: Deposit – $1000 deposit
Remaining balance is split up into three payments and will be outlined in the contract agreement.
On-Site Storage:
Limited storage space is available inside the Expo Halls. Storage requests are granted on a first come, first serve basis. Request forms will be available from the Commercial Sales office at a later date.
Accommodations:
Convenient on-site accommodations are available for all contracted LA County Fair vendors at a special rate. Please call for details.
Commercial Sales Department