MILLARD SHEETS ART CENTER
Due to County, State and Federal government guidelines regarding public gatherings during the COVID-19 pandemic, Fairplex is postponing the opening of the Millard Sheets Art Center until further notice.
About Millard Sheets Art Center
Through our exhibitions, educational programs, events, and workshops, the Millard Sheets Art Center provides the community with meaningful experiences within the world of visual arts. As part of The Learning Centers at Fairplex, we engage the community at multiple levels of education and our exhibitions promote the rich and diverse cultures that lie within LA County and Southern California.
Contact
Roberto Viramontes
Email: viramontes@fairplex.com
Who is Millard Sheets?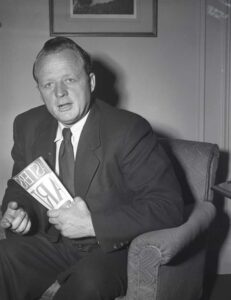 Millard Sheets (June 24, 1907 – March 31, 1989) was born in Pomona and encouraged at an early age to develop his talent. At age seven he began taking lessons from a neighbor, and at age 12 he won his first competition at the Los Angeles County Fair. Theodore Modra, the Director of Fine Arts at that time, became Sheets mentor. When Modra died in 1930, Sheets took over the directorship.
After graduating from Chouinard Art Institute, Los Angeles, in 1929, Sheets entered and won a competition in San Antonio, Texas. The prize money enabled him to travel to South America, New York and Europe, giving him his first taste of world cultures that later became the passion of his art and life. After his return, Sheets married and settled in Claremont where he taught art at Scripps College and Claremont Graduate School from 1931 to 1954. He was also instrumental in developing Otis College of Art and Design, Los Angeles, as well as California Institute of the Arts, Valencia. During World War II, Sheets served as an artist-correspondent for LIFE Magazine.
Millard Sheets is credited with over 200 architectural designs and murals that span the United States. His artworks hangs in 46 museums in 15 states, including the Smithsonian, the Metropolitan Museum of Art, the Museum of Modern Art, the Whitney Museum, the Chicago Art Institute and the Los Angeles County Museum of Art. Locally his presence is evidenced in many building designs, mosaics, and wall paintings.
During Sheets' 25-year tenure as Director of Fine Arts at the Los Angeles County Fair, he organized some of the most impressive exhibitions ever to be brought to Los Angeles. In 1937, he oversaw the WPA construction of a 12,000 sq. ft. building, the first major gallery dedicated solely to art in Los Angeles County. Most memorable are his post WWII exhibition, One World of Art; 6000 Years of Clay; and The Arts of Daily Living, extensively documented in House Beautiful Magazine. Over the years, he brought artwork from the Louvre in Paris, the British Museum and numerous National museums.
The gallery was dedicated to Millard Sheets in 1994. Speaking as the family spokesman, David Stary-Sheets prescribed, "The art exhibits of the Millard Sheets Center for the Arts shall strive to educate, aim to develop taste, and serve to stimulate thought. Works shown shall be of the highest quality, those that can stand the 'test of time,' those that have an important message to convey, and those that exhibit excellent fundamental skills. With an eye on the future, the gallery shall seek to interpret the continually evolving world of art as new interests, new materials and new messages arise."
History of Millard Sheets Art Center
The Millard Sheets Art Center began as the Fine Arts Program of the Los Angeles County Fair where art exhibitions have been an integral part since its founding in 1922. Each year, the art exhibitions produced for the Fair have featured artists from not only Los Angeles, but throughout California, the US, and the world and have presented contemporary as well as historical art in a variety of styles and media including painting, photography, sculpture, textiles, video, ceramics, drawing, architecture, and design.
The Fine Arts building, a 12,000 square foot gallery and more than 20,000 sq. ft. in total was built in 1937 by the Works Progress Administration. The facility was dedicated as the Millard Sheets Gallery in 1994 to honor the Pomona, California artist and teacher Millard Sheets (1907-1989).
Significant exhibitions produced by Sheets during his tenure include Masters of Art, 1790-1950, a survey of European and American paintings and sculptures which presented works by many of the most important artists from that period, among them Delacroix, Millet, Van Gogh, Cezanne, Picasso, Eakins, Marin, Rodin, Moore, and Brancusi, to name just a few. Arthur Millier, art critic for the Los Angeles Times, wrote in his review, "The country's greatest museums could be proud of this show."
Today, the Millard Sheets Art Center produces year round exhibitions showcasing artwork at varied levels of skill and experience in order to create a deeper engagement with art and culture in our surrounding communities. We are working to bring more culturally relevant and significant artists to the Millard Sheets Art Center during the LA County Fair and as a part of our year round exhibitions. For the Pomona Valley and our surrounding communities experiencing artwork of this magnitude is virtually impossible due to the highest concentration of cultural institutions located an hour's drive away in Los Angeles, but we have an opportunity to fill this void.
Beginning in September 2017, we will be participating in the Getty Foundation's Pacific Standard Time LA/LA with an exhibition featuring two of LA's iconic Chicana artists and founding female members of ASCO and Los Four, Judithe Hernandez and Patssi Valdez.
As we look to the future, we hope to continue providing meaningful introductions and experiences for our communities and Southern California to the wonderful world of art and culture.