CAREER AND TECHNICAL EDUCATION CENTER
About Career and Technical Education Center
As a program of The Learning Centers at Fairplex, a non-profit organization under the Los Angeles County Fair Association, CTEC has a mission to help fulfill unmet educational needs by educating and preparing students for real-world careers and professional success to help them make a positive contribution to the community. Through hands-on classroom instruction by credentialed instructors who are industry professionals, engagement with industry experts from the surrounding communities, and interaction with real work sites and professional environments, CTEC provides innovative learning experiences that give students the necessary skills to enter the workforce or continue on the pathway of higher education.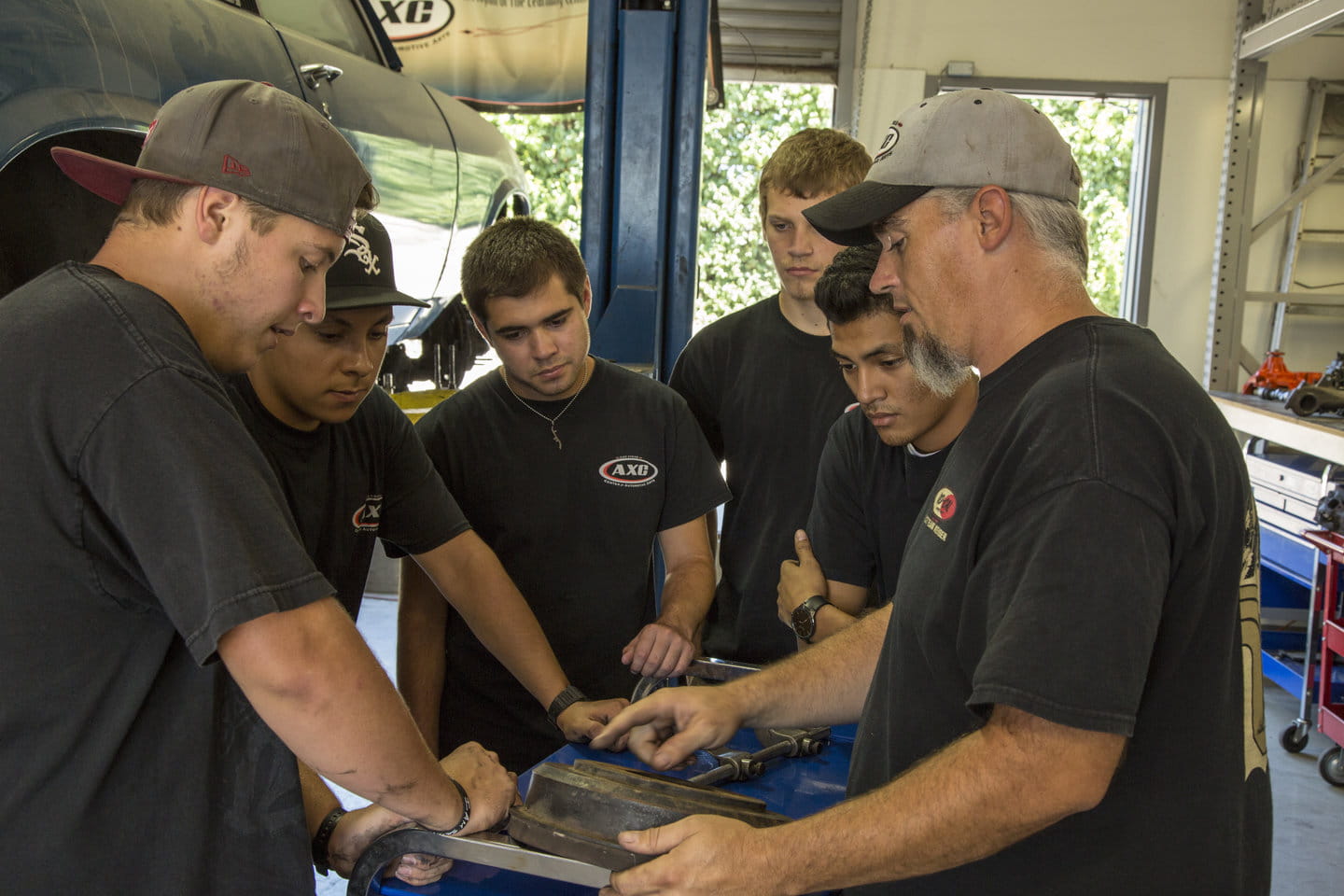 The CTEC mission is to:
Create a relevant year-round educational platform utilizing the unique resources of the 487 acres of Fairplex, home of the Los Angeles County Fair.
Present a hands-on learning experience that is focused and appeals to our state's diverse labor market.
Fulfill our responsibility of community service, by establishing neighborhood partnerships with public and private-sector organizations that share our passion for interactive learning, in order to provide the very best educational experience imaginable.
Support students to graduate from high school with a full range of options including industry certifications, apprenticeships, formal job training, military service, and/or two or four-year college opportunities.
CTEC offers career pathway courses with focused training in Arts, Media & Design, Automotive, Agriculture, Energy & Utilities, and Hospitality. Each career pathway consists of several courses that give students the opportunity to not only gain hands-on experience and exploration of career options, but also includes the development of employability skills to secure a job.
As we look at the future of available education options for high school students, CTEC is on track to becoming a premier provider of career technical education classes that support high school students and school districts in the local communities. By continuing to offer courses focused on career training, CTEC will provide hands-on, relevant learning opportunities for youth in the local region.

Automotive – AXC

The Alex Xydias Center for Automotive Arts (AXC) program has been developed in collaboration with automotive business owners and classic car enthusiasts from the Inland Valley. This two-year automotive program allows students to gain the necessary confidence and hands-on experience needed to enter the automotive industry. Students will progress through a series of classes, starting with the Auto 101 course to acquire basic skills and moving into classes on brakes, electrical and engine repair. Students will work with instructors who are industry-certified automotive technicians and are ready to help students move on to advanced study. Students will have the opportunity to take and receive National Automotive Service Excellence (ASE) Certifications that can help them acquire entry-level jobs in the automotive or specialty shop industry. The curriculum is designed to prepare students for continued study and work in college or in the workplace.
The Classes
Automotive 101 – Intro to Automotive
Is the first class in the two-year automotive program. In this one semester class, students will develop workplace attitudes and behaviors, identify and demonstrate basic safety standards, work area care techniques and vehicle maintenance skills.
Automotive 102 – Brakes & Systems
Is the second class in the two-year automotive program. In this one semester class, students will receive training in diagnostics and repair of disc, hydraulic and drum brake systems, and trouble-shooting of master cylinders. Students enrolled in this course will receive hands-on, practical experience that will prepare them for the Automotive Service Excellence (ASE) A-5 Brake Certification Test, which will demonstrate their knowledge as an automotive professional and will lead to securing employment in the automotive industry.
*Students who successfully complete Automotive 101 will be eligible to enroll in Automotive 102.
Auto 103 – Engine Repair
Engine Repair will provide students with the basic skills and knowledge in diagnosis and repair of the general engine, cylinder head and valve train, engine block, and lubrication and cooling systems, as well as test specifications, inspection, and service of the fuel, electrical, ignition, and exhaust systems. Students enrolled in this course will receive hands-on, practical experience that will prepare them for the Automotive Service Excellence (ASE) A-1 Engine Certification Test, which will demonstrate their knowledge as an automotive professional and will lead to securing employment in the automotive industry.
*Students who successfully complete Automotive 102 will be eligible to enroll in Automotive 103.

Auto 104 – Electrical and Electronic Systems
Will give students the basic knowledge of tools and procedures to test the electrical system for common problems, and identify electrical components, circuit protection devices, and electrical schematics. Students will also conduct voltage drop tests and determine the recommended tools and procedures to test for circuit and battery drain problems. Students enrolled in this course will receive hands-on, practical experience that will prepare them for the Automotive Service Excellence (ASE) A-8 Electrical Certification Test, which will demonstrate their knowledge as an automotive professional and will lead to securing employment in the automotive industry.
*Students who successfully complete Automotive 103 will be eligible to enroll in Automotive 104.
Auto 201 – Engine Performance and Diagnostics
Will give students the knowledge to diagnose sophisticated drivability and emissions-related problems on automobiles, SUVs, and light duty trucks. Students enrolled in this course will receive hands-on, practical experience that will prepare them for the Automotive Service Excellence (ASE) L1 Advanced Engine Performance Specialist Certification Test, which will demonstrate their knowledge as an automotive professional and will lead to securing employment in the automotive industry.
*Students who successfully complete Automotive 104 will be eligible to enroll in Automotive 2020.

The Interview Process
AXC instructors assess dedication, and makes sure each student is committed to completing the two year program before awarding them with a scholarship.
The Teachers
AXC instructors are skilled ASE certified industry professionals who hold or are obtaining a Designated Subjects Career and Technical Education (CTE) Teaching Credential. In addition, students work with our Career Services Specialist on developing their resume and professional skill sets.
The Experience
These are not just auto shop classes, this program is an experience. Our hopes are to get you excited about the automotive industry the way we are. There are so many opportunities out there, and our goal is to open your eyes to the possibilities.
Through valued relationships with automotive industry professionals, AXC students have had access to real world work experience and environments; a rare and life-changing opportunity for high school students. AXC students have been able to participate in a variety of projects and car builds, including the chance to work with automotive celebrity Chip Foose to build a 2013 Ford F150. Every year, a few select students are privileged to attend the SEMA Show in Las Vegas. The students also attend a wide variety of field trips from the SEMA Garage in Diamond Bar to the Petersen Museum in Los Angeles to even the Barrett-Jackson Auction in Scottsdale, Arizona.
The AXC experience far exceeds the classroom and auto shop walls, but is about the sense of community and passion that the automotive industry brings.
Future classes – Our plan is to continue to grow and add more classes to our curriculum! We plan to offer: welding; fabrication; auto body; and paint.
Stay tuned!
AXC The Story
Alex Xydias & Pete Chapouris
Our namesakes, Alex Xydias & Pete Chapouris, are renowned hot rod legends and award-winning figures in the automotive customizing industry. Alex set some of the first world speed records and launched So-Cal Speed Shop. Pete was one of the most reputable hot rod builders of his time, and relaunched SO-CAL Speed Shop with Alex to make it one of the most impactful hot rod shops in the world. Their legacy will continue to influence the automotive industry professionals of tomorrow, including AXC students at Fairplex.
Alex Xydias Bio
Forever young and filled with energy – the best possible description of the life and times of Alex Xydias."
Who better exemplifies the pioneer California hot rodder than the Southern California native who caught car fever while at Fairfax High, bought his first car, a '29 roadster for $ 65.00, opened the first SO-CAL Speed Shop in Burbank, and set numerous Bonneville land speed records in his revolutionary belly-tank Lakester, all before age 26? Backing up a bit, Alex served during W.W.II as a gunner on a B-17. Leaving the war behind, he returned to his beautifully customized '34 cabriolet. Lots of other returning GIs were looking for something to do and Alex met their needs and his by opening his SO-CAL Speed Shop business and running at Bonneville. The first Lakester was built using a surplus 315 gallon auxiliary fuel tank from a P-38 Lightning, a Model T frame, and a Vic Edelbrock V8-60 engine. That car went on to set many class speed records…and they were off to the races!
The first Lakester was only the beginning of a series of cars bearing the SO-CAL logo; Alex and his teammates ran the first hot rods to exceed 170, 180, and 190mph! In 1950 their Streamliner, powered by an Edelbrock-equipped Mercury V8, ran 210mph at Bonneville, setting a new American land speed record thus shattering the hot rod record by 50 mph! The editors of Mechanix Illustrated Best Hot Rods stated that this So-Cal Team would "…be known from coast to coast as America's No. 1 Racing Team."
Soon drag racing took over from the dry lakes as the motorsport of choice. Alex was right there, fielding his "Double-Threat Coupe" so labeled by Hot Rod Magazine in their May 1954 cover story. Double threat indeed…a '34 coupe with a blown flathead running in the 1953 season at Bonneville with a class record 172.749mph backed up with a new Pomona Drag Strip record of 132.830mph. Alex added motorsport filmmaking to his repertoire, documenting events at Bonneville, NASCAR, Pikes Peak, 12 Hours at Sebring, Indy 500 and Drag Racing. Film making went well; in fact one of his current projects is the transfer of his old motorsport films onto DVD. In 1963 he accepted a position as editor of Petersen Publishing's Car Craft Magazine. He later became publisher of Hot Rod Industry News and then associate publisher of Hot Rod Magazine. While there he served as director of the annual Petersen trade Show, now known as the Specialty Equipment Market Association (SEMA Show), the largest automotive trade show in the world. After leaving Petersen, Alex went on to work with partner Mickey Thompson. They organized the SCORE off-road equipment show. As partners and friends they ran this hugely successful event for 10 years until Mickey's untimely death. Alex Xydias is the epitome of hard work, creativity, teamwork, innovation, achievement, and excellence, as recognized by his following honors:
SEMA Hall of Fame, 1982
Dry Lakes Hall of Fame
Hot Rod Magazine Hall of Fame
Route 66 Hall of Fame
Grand National Roadsters Show Hall of Fame
Robert E. Petersen Lifetime Achievement Award
2008 Wally Parks Motor Sport Museum, Chairman of the Board
Time to rest? Not if you know Alex. The Alex Xydias Center of Automotive Arts has now been founded; it's a career/vocational education program. As a part of The Learning Centers at Fairplex, students learn "autoshop 101" followed by the knowledge and skills necessary to repair, modify, and restore old cars. The future of hot rodding would seem to be in excellent hands, with the passion of Alex Xydias serving as the inspiration for future generations.
The Donors
The Founding Partners
It started with the AXC Committee and the Founding Partners. Just $ 1,000 from each person and a dream was able to start all of this.
Margie & Robert E. Petersen Foundation
Alex used to work for Robert E. Petersen back in the day, and has kept in touch with Gigi Carlton through the years who is now the CEO of the Margie & Robert E. Petersen Foundation. When Alex struck up a conversation with Gigi and told her about AXC, she was intrigued, and knew it would be someone that Robert E. Petersen would wanted to be part of. We are happy to have the support of the Petersen Foundation so that we are able to grow and have the help of many others through the generous gifts we have received. The "Robert E. Petersen Garage" is proudly named after a dear friend of Alex and Gigi who are both happy to see his name placed there.
SEMA – Specialty Equipment Market Association
Not only have we been part of great projects with SEMA, they have granted our students access to the World Famous SEMA show, and have generously donated to AXC as well. SEMA as well as AXC Committee members, understand how important it is to expose the students to real world events, and the marketplace.
LA Roadsters
The LA roadsters were one of the first large organizations to really help us out in donations and collaborations.
Many more…
We are grateful to the many donations we have received over the years whether they be monetary, or other.
Agriculture
Urban farming is an innovative solution to increase access to fresh food while at the same time revitalizing the economic and social health of communities. It is also nurturing a new generation of young leaders through the operation of an urban farming enterprise. CTEC 's Urban Farming course prepares students to gain expertise in cultivation, landscape design, nursery work and urban growing, as well as sales and marketing.
Students will acquire knowledge of growing and sustaining a business through skills such as transporting plants, propagation and landscape design. Urban Farming introduces students to the basics of farming and helps them explore careers in agriculture and natural resources through hands-on training at Fairplex's five-acre diverse farm.
As the urban farming and food sustainability movements continue to grow, this class provides an opportunity for students to enter a rapidly expanding industry. In addition to experiencing what it takes to farm, students are introduced to concepts of leadership, horticulture, food justice, nutrition and community organizing. Urban Farming offers students the opportunity to learn about the farm-to-table movement through cooperative learning with CTEC's Culinary Arts class and on-site businesses such as Sheraton Hotel & Conference Center and McKinley's Grill.
Students will be prepared to work in agricultural and/or horticultural settings and pursue further education in AgriBusiness, Agricultural Engineering, Horticulture, Botany, Food Sciences, or other related fields.
Welding
*Introduction to Welding Industry: Coming soon.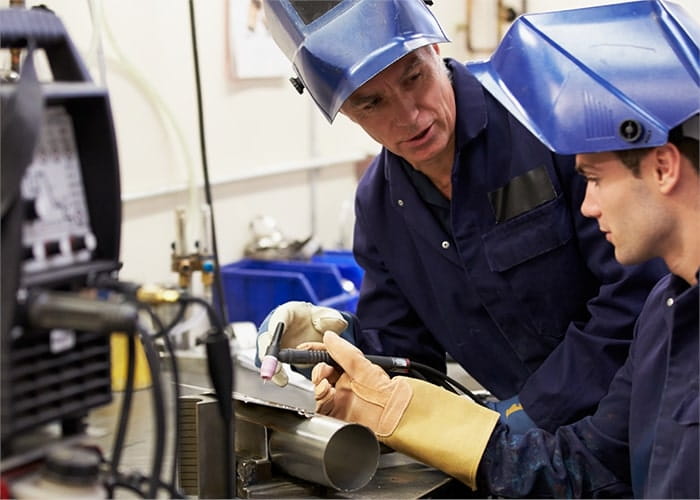 About
Skilled and certified welding workers are in high demand in the Automotive, Manufacturing Industry, construction trade, and utilities industries, aero-space, and many other industries. Starting salaries can be $40,000.to 60,000 for beginning skilled workers. American Welding Society.
Classes will be offered for high school students. Applicants will apply through the website or in person. Scholarships for high school students are offered from the Keith & Saralee Baldwin Welding Scholarship Fund. The adult fee-based courses will be 6 week sessions, with students earning an AWS (American Welding Society) Certificate at the end of 6 months
Program
Students will learn basic welding principles such as, materials joining, the materials of welding, techniques of welding, such as MIG (Gas Metal Arc) Welding, and TIG (Gas Tungsten Arc) Welding, and preparation for the basic American Welding Society (AWS) Certification. High school students will also learn career readiness skills.
Courses
101 & 102 – Introduction to welding Industry: including careers options, career readiness, OSHA safety regulations, basic materials & tool introduction, metals & materials, beginning metal joining, industry vocabulary & symbols. Simple beginning project based work.
103 & 104 – Advanced welding: focus is on welding skill development, introduction to various types of welding. Introduction to basic reading of blueprints, math & science of welding, and preparation for certification. Project based learning will be included at this level.
Welding lab equipment made possibe through a generous grant from the Margie and Robert E. Pertersen Foundation
About
A program of The Learning Centers at Fairplex, the Career & Technical Education Center (CTEC) provides semester-long career technical education courses as well as job acquisition training through the Career Center. There is no cost to high school participants and, with a partnership with San Antonio ROP, students receive hours that may be used for elective credits towards high school graduation.
How to Apply
Visit the CTEC's website, www.fairplex.com/ctec
To view the current course schedule, click on Fall 2023 Class Schedule.
To enroll in a course, click on Register for Fall Courses.
Once your application is received, you will receive an enrollment confirmation via email and/or phone.
Prerequisite
Applicant must be at least 15 years of age and/or a sophomore, junior or senior in high school to receive ROP CTE credits.
CTEC Pathways
Contact Information
bhernandez@fairplex.com
(909) 576-5915